Just a few years ago, Disney World began a new, but quickly canceled, Haunted Mansion tradition for Mansion fans everywhere - The "999 Happy Haunts Ball". Guests were offered three admission packages to choose from, named EZRA, PHINEAS and GUS, and prices range from under $200 to over $2000 to enjoy this special event. Each package entitled the guest to certain benefits and services. The park reopened after regular closing time and, depending on the package, guests were provided a variety of meals, from buffets outside to a banquet inside the Mansion itself.
Our own BOO NEWS roving reporter, Restin Peess, interviewed Fan Club member Stephanie Neal about her trip to the 2004 event...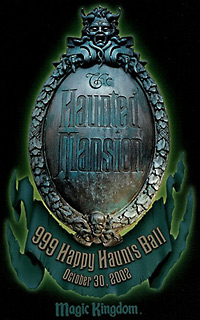 Restin: So, Stephanie, you old bat, what package did you get?
Stephanie: My husband Mike and I opted for the PHINEAS package. Dressed as a witch and a ghoul we entered a room in the Grand Floridian Hotel, which had several things on display that were going to be auctioned off the next night, before dinner.
Restin: Was the hotel decorated for the event? What was the set up?
Stephanie: The room where they had the auction/reception was not decorated, but they had two big lighted lamp posts on the outside of the room's entrance. The main room, where the GUS & PHINEAS people had the dinner on the second night, was decorated. There were dozens of people taking pictures, so I bet some of those pics are on Haunted Mansion sites out there, which you know much more about than I do... But anyway, the large room had little scenes of grave yards, with ravens and little guys around the tombstones, and a woman coming out of her grave. There was a center-piece on each table that glowed with a purple light. I won the lighted center-piece [from my table]; I'll make sure to send you a picture of it. A gate was set up inside the entrance to the room. It was not a replica of the Mansion gate, but it was still wonderful (I was so sick that my camera was not working right! Aaaaaghh!). I tried to take tons of pictures, but to no avail. There were so many of these little scenes all over the place, I'm sure I didn't see them all. Boy, I learned for next time that I need to check out every inch of the place, take notes, and get another camera!!
At the breakfast on the third day they had a replica of the Corridor of Doors' 13 O'Clock grandfather clock on the buffet, which I did not see because people wanted to know about the Mansion pins I was wearing from [the now defunct] Ghoul's Club. Everybody loved them. Mike told me about the clock - I wish I could have seen it.
Restin: So, gimme a mental picture of how the place looked.
Stephanie: The [Mansion Foyer] was dimly lit with mist drifting through the air here and there. The Mansion itself was not decorated at all. Our table was in the Foyer, and there were four more tables in the Stretching Portrait rooms. With both of the Stretch Room doors open, you could clearly see that they, together with the Foyer, created a massive Hidden Mickey. We enjoyed the auction preview, snacks and drinks. Disney had make-up artists and people to do our hair, so almost everyone took advantage of this service.
Restin: Did you get pictures of you and your husband with your new make-up and hair-dos?
Stephanie: As you know we could not take a picture ourselves because of [camera] problems, but for some reason there were several people that came up and took pics of us. After everyone was made up to look like dead ghouls, we were directed toward five limos - ten per limo - by Scoop.
Restin: Scoop? What's that?
Stephanie: Oh, that's the guy that has a little free pin workshop almost every day, I think at 1pm in Disney World. People that have gone to his workshop have been very impressed with him. One of these days I need to check it out. I think it's held some place on Main Street USA. As we were driven to the dinner...
Restin: They DROVE you from the Grand Floridian to the Mansion in limos for dinner?!
Stephanie: Yup!!
Restin: Please tell me a little about the limo ride and what the conversations were like with the other passengers.
Stephanie: We all told each other where we were from...California, Florida, Texas, New Jersey, Canada, and so on. We were mostly just giggling because most of us looked so ridiculous - hair sticking up 6 inches in the air and thick black and white [make-up on our] faces, looked pretty silly. Then Mike said, "Hey, wait a minute! We are DRIVING to the Haunted Mansion! I thought the only way to get to the [Magic Kingdom] Haunted Mansion is by boat or [monorail] train!" Everyone looked puzzled and they just laughed. We passed three hitchhikers and we all pointed and said, "Oh look look look, there's the hitchhikers trying to hitch a ride!"
Restin: You saw the hitchhiking ghosts? Where were they?
Stephanie: [Along the limo route] standing on a stage between two non-descript buildings...
Restin: Were they dressed like the Mansion hitchhikers?
Stephanie: Yes. Driving to the Mansion they were dressed as the hitchhikers, and driving back to the hotel they were dressed like musicians and played instruments.
Restin: Did the driver intentionally slow down for you to notice them?
Stephanie: Yes...
Restin: Did they come up to the car or anything?
Stephanie: No. When we passed them, they just stuck out their thumbs for us. And when we passed them the second time [on the way back], they were busy playing music on that same stage.
Restin: How did everyone react to them?
Stephanie: Everyone was saying "Oooh, cool!" and "Awsome!" People were saying that is was the best Haunted Mansion event they had ever attended.
Restin: Anything special about the inside of the limos?
Stephanie: The limo glowed inside from the light that was over the glasses that were tucked in the right side of the limo.
Restin: What path did the limos take to the Mansion?
Stephanie: I don't know. I don't know the names of all the streets, but it was most certainly "behind the scenes" streets. The small group of us 50 ghouls walked down a long red carpet with [cast members dressed as] ghouls on both sides.
Restin: Where was this?
Stephanie: Well, you know where Madame Leota's Merchandise cart is [or rather, use to be, just outside the Mansion gates]...it started there. It took a few minutes to realize we were walking on a red carpet, until someone said something, and we all said it was awsome. We were really made to feel like Mansion residents! [Inside the Mansion] a very large woman and a couple of her chefs and servants kept us entertained all evening. They invited us all into the Mansion, then led us in.
Restin: Who was this woman? How did she entertain?
Stephanie: She acted as the hostess giving the party. She would go around and talk to everyone very loudly, asking, "What do you do?" and I said that I was an artist. Both she and a couple of her "servants", the chef, and Scoop, spent an awful lot of time around our table quizzing me. At the dinner tables were Cast Member pins - big, heavy cast member pins with our names on each of them. So I of course was the first one to snatch mine and pin it on my black cape!! There were two "Mikes" and two "Stephanies" and two "Dans" sitting at the table, so we all decided to name it "The Redundant Table".
PART TWO COMING SOON!